Open Daily from 19.00
Sophisticated dining that unravels the unexploited, most splendid part of Greek culinary tradition
SENSE Restaurant is perched at AthensWas hotel's most prized spot: its spectacular rooftop. Graced with impressive views of the striking Acropolis, SENSE is undeniably among the best rooftop restaurants in Athens, combining incredible panoramic views of the city with delectable dishes.
Boasting two beautiful dining areas, one indoors and one outdoors, the ambience is soothing while the views are disarming. The exterior seating area enveloped by a verdant herb garden exudes the freshness of discrete fragrances, and climbing vines complete the picture of your immediate surroundings. The imposing Acropolis is the background to which you will raise your glass of fine wine or signature cocktail and toast to one of the most fantastic rooftop experiences you will ever have. From the interiors, you can soak in the ambience of amazement created by the elegant environment and get a glimpse of the open kitchen section and preparation aisle where Chef Charalambopoulos sets all the plates and gives them the final creative touches.
An unsurpassed dining concept inspired by authentic Greece
Chef Alexandros Charalambopoulos and his team have devised an utmostly creative menu that focuses on original, inspired Greek combinations with a modern approach and a twist of refinement. A profound love for Greek gastronomy, commitment to the best ingredients and dedication that comes with experience are the foundations upon which the menu of SENSE Restaurant built.
The recipes reflect a fresh gastronomic outlook and a modern approach to Greek cuisine that does not diverge from its roots and memories; a contemporary and often playful version of classic ideas, with very few foreign influences, each dish has been conceived with a specific culinary philosophy in mind.
We are fully embodying the fragrances of Greece, the overwhelming flavours and exciting textures; our menu comprises of one-of-a-kind dishes that will enthuse dining guests and will appease even the most meticulous of taste palates.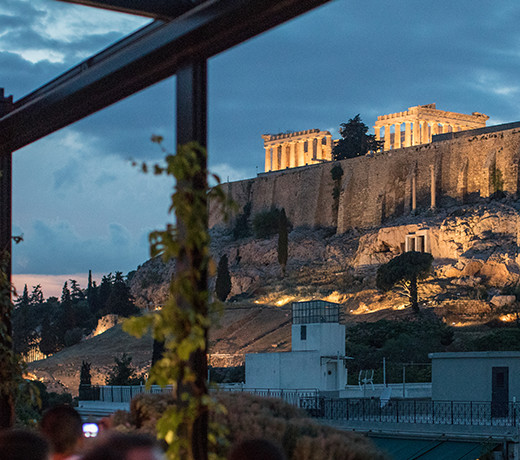 More than dining, appealing to all senses.
SENSE Restaurant occupies a prime location in Athens city that is available to be enjoyed throughout the day, evening and throughout all seasons. With a selection of signature cocktails and an exemplar list of wine appellations, SENSE Restaurant is also a place where you can enjoy a drink or two with astonishing Acropolis views magnificently draping the background. Our Sommelier can spruce up your knowledge of Greek and international wines, or they can suggest one of our inspired cocktails that will elevate your evening even further.
Business lunches & events
SENSE Restaurant is also the place where business meets pleasure. Business lunches take on a different turn at our rooftop restaurant, as the incredible surroundings lend themselves to create a most enjoyable and pleasant aura. We can prepare a bespoke set menu and make sure all your needs are met ensuring the success of your corporate event.
Info
5 Dionysiou Areopagitou str. on the 7th floor of the hotel
Tel. Reservations: +30 210 9200240
E-mail: sales@anemihotels.com
Website: https://www.senserestaurants.com